Over 3,500
Success Stories



Pitch Deck Design and Strategy for Startups to the Enterprise Sales Team
pitchdeck.com is the original and leading pitch design agency. Some would argue that we invented the pitch deck, but we won't weigh in on that. Whether you're presenting to investors or for the big sale, pitchdeck.com can help you achieve the maximum impression.
3,500+
Global Clients

10,000+
Pitch Decks Designed

$100B
Billions in Capital Raised

Global
Representing Companies Everywhere
Pitch Deck Portfolio
We've worked with some of the world's most impactful companies. View our pitch deck examples below.
Pitch Deck Services for In-Person & Virtual Events
Pitch Deck Presentation Design
How can you stay ahead of the curve when the world of investment is always changing? A pitch deck you can take pride in will always be necessary to secure capital in any round of funding. Our pitch deck specialists design a framework of success that makes you the beneficiary of over a decade's worth of experience raising capital.
Investor Relation Presentation Design
Are you raising your series A funding? How about series D? No matter what round you're in, our team of experienced designers will create a high-quality presentation to help you meet your goals. Our investment pitch design process has been refined over years of work and hundreds of clients. There's no arguing with our results.
Investment Books & Brochure Design
Printable leave behinds allow for a long-lasting pitch impression. Allow us to bring your conventional flipbook presentation to life. Our team works to make sure your audience is considering your value proposition long after you've left the building and increases your chances of engagement.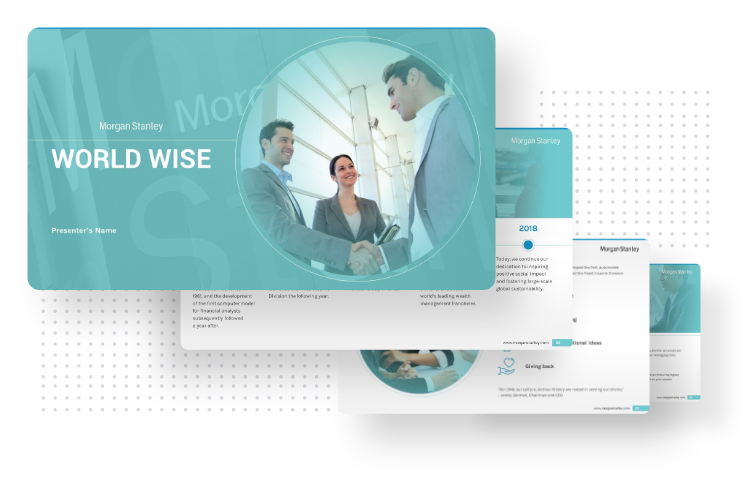 Sales
The sales landscape has changed dramatically in recent years and a high-quality sales deck is essential to obtaining B2B sales, both online and in-person.
Our team of sales deck design specialists work with you to create a framework of success through a proven strategy that we've developed over a decade's worth of helping our clients sell more!
Accessory Pitch Services
Pitch Deck Flair
Looking for an in-person pitch that needs something a little more memorable? We design and animate pitch decks to help your story pop! Whether it's for a VC pitch fest or your product demands to stand out we can help you deliver the presentation that make people say "WOW".
Pitch Books
A high-end pitch book is a must in today's competitive investment and sales markets. Whether you're trying to get the meeting by sending a teaser pdf or you need a reinforcement piece of collateral post meeting pitchdeck.com offers amazing storybook design and strategy at competitive rates.
Pitch Collateral
An effective message stays with your audience even after the pitch is over. Reinforce your presentation with a striking print that expounds on your company's strengths.
Pitch Graphics
pitchdeck.com has created hundreds of infographics for clients. Our expert staff will take your ideas and data and turn them into a cohesive and understandable Pitch Graphic that can be shared in a creative way for years
to come.